Three Freight Bridges
EPM performed hazardous materials surveys for asbestos and lead based paint in all accessible areas to be impacted by the Rehabilitation of Three (3) freight bridges during the Design and Construction phase of the project. The locations are 65th Street North Bridge (Span A), Fresh Pond Yard Bridge, and the Flushing Avenue Bridge.
The scope of work included:
Reviewing record plans for identified and suspect hazardous materials that may be impacted by proposed

rehabilitation
Performing asbestos and lead

investigations at all three bridges

Preparing report summarizing all data collected

Preparing asbestos and/or lead paint abatement specifications if required.
Ellison Ave Bridge
EPM, as sub-consultant, is providing environmental engineering consulting services for the Preliminary Design of the Ellison Avenue Bridge Replacement Project in Westbury, New York.
EPM participated in the following tasks:
Prepared Sampling and Analysis Plans for both the subsurface environmental

i

nvestigation and the hazardous

materials investigation for the bridge.

Performed asbestos and lead based paint material investigation, Phase I and Phase II ESAs.
The soil investigation identified shallow soils excavated around project site as contaminated but non-hazardous.
Hazardous materials identified asbestos containing paint on abutments, asbestos containing waterproofing is presumed, and lead paint was found primarily at the bridge under deck structure as well as other areas.
EPM will prepare remediation design documents, bid documents and provide bid support services in the future.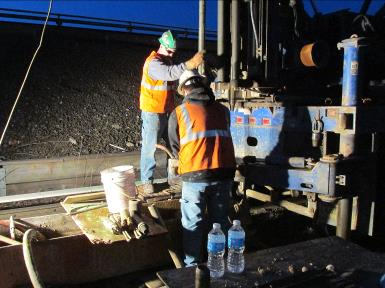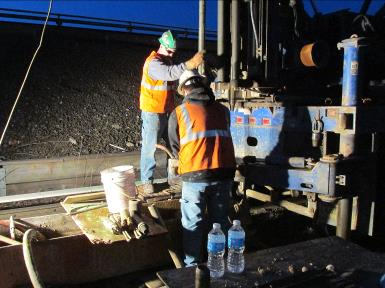 Jamaica Station
As a sub-consultant, EPM provided Environmental Soil Sampling and Analysis from the Geotechnical Borings associated with the Design Services for Jamaica Capacity Improvements—Phase I.
EPM assisted in developing a site specific work plan explaining the requirements to complete the subsurface investigation.
EPM performed soil investigations concurrently with the geotechnical investigations, to determine the quality of the proposed excavation subsurface areas. The four areas investigated were Johnson Avenue Yard, Met Interlocking, Dunton, and J-55 in Queens, New York.
A final environmental soil investigation report was prepared and discussed the findings of the investigation and provided recommendations for soil management and health and safety precautions for the public and workers during construction. In addition, EPM prepared special notes and a cost estimate for managing the contaminated soil.
As an addendum to this contract, EPM prepared asbestos abatement design specifications and design notes for the Johnson Avenue Yard Reconfiguration project.